Written by Stacey Clarke, Maitri Yoga
Click Here for Maitri Yoga facebook
With so many inspirational personalities available to tap into, the BaliSpirit Festival 2013 promises yet another great year of total yoga immersion and sensory delight; for there is a whole lot more to this festival than yoga alone.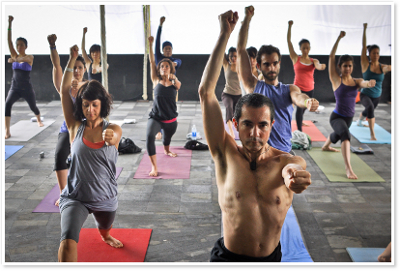 What is the BaliSpirit Festival?
This festival focuses on the spirit, through connecting with yoga – asana, meditation and pranayama – music and dance.  In addition to these main focuses there are art installations and various workshops and seminars on topics such as healing, nutrition, cleansing, massage and human potential.
Is it just another festival?
BaliSpirit Festival aims to stay away from being an intoxicating, raucous party festival.  With foundations in holistic wellbeing, it goes beyond the music, yoga and dance to "awaken and nourish each individual's potential for positive change within, leading to positive change in our homes, in our communities, and around the world"(balispiritfestival.com).
How did it come about?
The story of how the BaliSpirit Fesitval evolved is tinged with sadness, because the Bali bombings were the catalyst to start-up something positive for the Bali locals – BaliSpirit, which, in turn brought about the festival in 2008.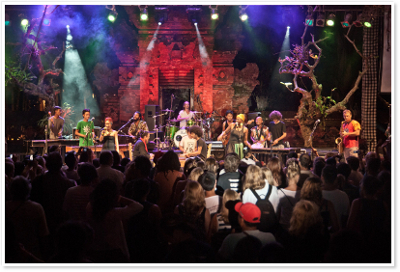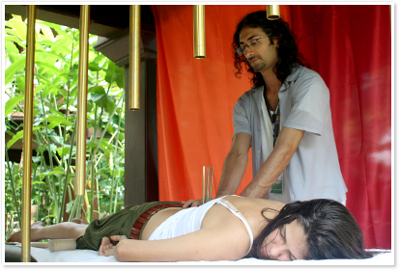 The three founders are Bali residents Meghan Pappenheim, Kadek Gunarta and Robert Weber.  Meghan feels strongly that the practice of yoga greatly enhances people's lives on every level, and it was this realization that was the driving force behind the creation of this enlightening event.
What will you get out of it?
It's all about making the world a better place. It's said to be a huge celebration – "of the richness of culture, the sanctity of the environment and harmony between people of all nations"(Ibid).
You'll get a spectacular indulgence of the senses, with so many pathways to chose from that include:  physical practice of yoga and dance, the joyful music concerts, self-improvement opportunities, relaxation, cultural experiences, meditation, pranayama and traditional Balinese food.
How does it benefit others – in particular the Bali locals?
Part of the vision is to contribute positively to the ecological health, cultural vibrancy and overall vitality of Bali and Indonesia.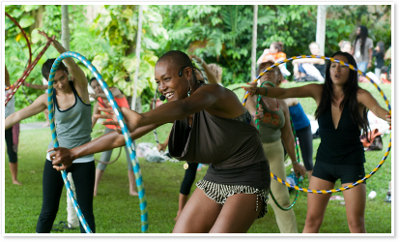 For the first 3 years huge loses were made, but the founders kept true to their word and charity donations of $34,000 were still made in the first and second years to support the local community – primarily the Bumi Sehat safe birthing clinic and Pelangi Community School.  Plus in 2010 there was a big HIV/AIDS awareness program launched that reached 26 high schools across Bali.
Hayley, one of Byron Yoga Centre's teachers, was lucky enough to be at the festival last year and says she can't wait to get back there in March because she didn't have a chance to get to everything.
The days were busy, but she still managed to find her inner peace and relaxation time amongst the yoga, music and dancing.  The yoga sessions were inspiring and after freshening up at her beautiful hotel it was great to meet up with the group before heading to the evening's music.
Take a look our Facebook album for some of last year's photos.  If you were there we'd love to add your photos too.  Just pop them onto our Facebook wall or email marketing@byronyoga.com.
So, what could be better than going to the BaliSpirit Festival to enjoy five days packed with yoga, dance and music? …. Well, we'd love to share the experience with you, and provide airport transfers, 8 nights accommodation, breakfast and an extra two days of yoga and evening programs, before getting VIP Gold Class access to the BaliSpirit event.  With prices from only $990, it's less than $150 more than just a 5-day ticket