2020 has been a year of challenges but also, for many of us, a time of reassessing and rethinking the path we are on. Have you caught yourself thinking about taking up new hobbies? Planning a new career? Dreaming of different places you'd like to travel? Or perhaps you are determined to embrace a more mindful, healthier lifestyle?
A yoga retreat is not just for long term yoga practitioners or those looking to deepen their practice. A retreat is the ideal way to take some time out to explore new ideas, to connect to your inner voice of truth and to make solid plans to follow the path that is calling you.
Here are six reasons to attend a yoga retreat at Byron Yoga Centre. You will reap the benefits for a long time to come:
Spend time with yourself
Yoga retreats provide a beautiful opportunity to reflect on where you are right now and where you want to focus your energy in the future. The combination of yoga and meditation practices with deep relaxation and time spent on your own leads you to connect to your heart, to the true you. When you step away from your usual daily hustle and bustle you are giving space to move into a place where you are more open hearted, more connected to your intuition and more genuinely mindful. Mindfulness is simply being in the present moment without judgement. After a stay at Byron Yoga Centre you are likely to start to see the world around you with a new set of eyes, without negative judgements or other people's influences clouding your perceptions. In choosing to join a yoga retreat you are embarking on a wonderful journey of transformation.
Disconnect from the outside world
For most of us, our day revolves around time screen-time: answering emails, reading news, phone calls, scrolling through social media…the list goes on. Then during Covid our attachments to screens grew as we added Zoom meetings, Facetime conversations and House Party get togethers to our routines. Screens are hard habits to break, but at Byron Yoga Centre we gently encourage guests to embark on a digital detox to be more present with the nature around on this stretch of beautiful northern NSW coastline and to the truth inside their heart. This allows retreat guests to connect to their intuition and to find that new direction or path they are seeking.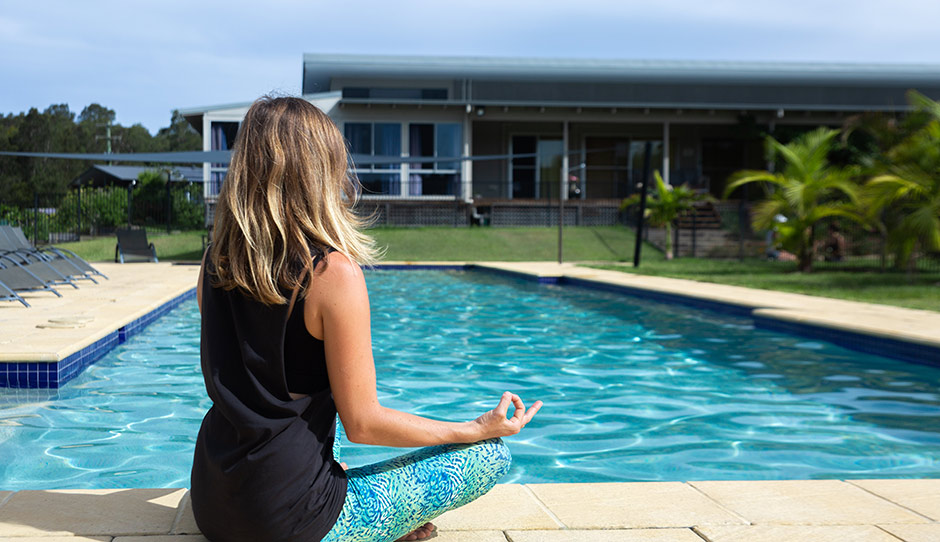 Detox your body & mind
Detoxing comes in many forms. From allowing yourself to step out of your busy environment and leaving your phone at home, to cleansing your body with nourishing food or letting go of negative thoughts through meditation. Joining a retreat at Byron Yoga Centre will give you the opportunity to gently and naturally detox your body and mind. Much of the produce for the amazing vegetarian meals are grown onsite in the abundant organic gardens. The menu is based on the principals of SLOW Food: Seasonal; Local; Organic and Without processed foods of any kind.
Through practising meditation, we'll become more grounded and aware. As our lead meditation teacher Swami Pujabi said: "Life happens now. Life doesn't happen in the future or the past. Whatever we want in life can only happen if we are present. Because when we want to be happy, it can only happen in the present."
Connect with your tribe
It's well known that if you are surrounded by like-minded individuals, you blossom like a flower! You become more creative, more open to your feelings, braver and genuinely happier. Being surrounded by people you can trust, grow and thrive alongside is an experience that leads to life-long friendships.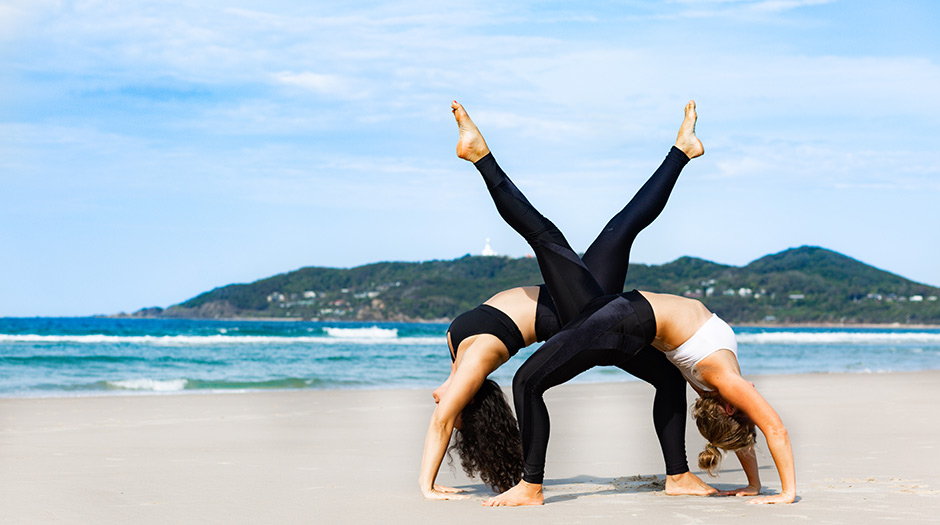 Deepen your yoga practice
Attending a yoga retreat is a beautiful way to develop your practice and learn more about the yogic lifestyle. Even yoga newbies are welcome as each session is customised to suit the group with options given for different levels of experience. You will be taught and supported by experienced teachers who have been living and breathing yoga for many years.
Take home new healthy habits
Joining a yoga retreat is a chance to learn new ways to nourish yourself and instill healthy habits. Byron Yoga Centre offers 8, 5 and 3 day programs with a flexible schedule to maximise your experience of wellness and yoga. You will benefit from workshops on nutritional and cooking, philosophy and meditation, plus enjoy a relaxing massage, riding a bike to the beach or exploring this special corner of NSW while meeting people and learning to nurture yourself.
A yoga retreat is not just a holiday, it is a very unique experience that may even change your life for good. Does this sound good? Find out more about our yoga retreat options in beautiful Byron Bay here.