Written by Gitam Garden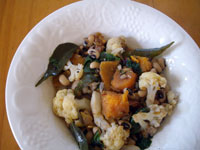 Nothing beats a warming curry on a cold winter's night. The spices in this curry are healing, nourishing, and delicious, giving you plenty of good reasons to stay in.
Ingredients
1 cup black-eyed beans, soaked overnight
½ cup oil
1 teaspoon black mustard seeds
10 curry leaves
½ teaspoon hing
2 tablespoon finely chopped ginger
1 finely chopped red chilli, seeds removed
1 teaspoons cumin seeds
1 teaspoon garam masala
1 teaspoon salt
2 cups diced sweet potatoes
1 cup water
2 cups cauliflower, broken into florets
1 cup green leafy vegetable, sliced.
Method
1. Drain and rinse the beans, place in a saucepan with two cups of water and a pinch of salt, bring to boil, reduce heat and simmer until soft
2. Meanwhile heat oil in a heavy based pan, add mustard seeds. When the seeds start to splatter, add hing and curry leaves and cook 1-2 minutes
3. Add ginger, chilli, cumin seeds, garam masala and salt and fry over low heat for 2-3 minutes
4. Add sweet potatoes and stir well, add water and bring to a boil then reduce heat, cover pan and cook for fifteen minutes
5. Add cauliflower, and a little more water if necessary, and continue to cook until all vegetables are tender
6. Add the cooked black-eyed beans and simmer for a further ten minutes
7. Serve hot, with rice and raita or chutney.
Preparation time: 1 hour
Serves: 4.
Related articles
Gitam Garden is Byron Yoga Centre's retreat chef extraordinaire.