Written by Lila Kirtana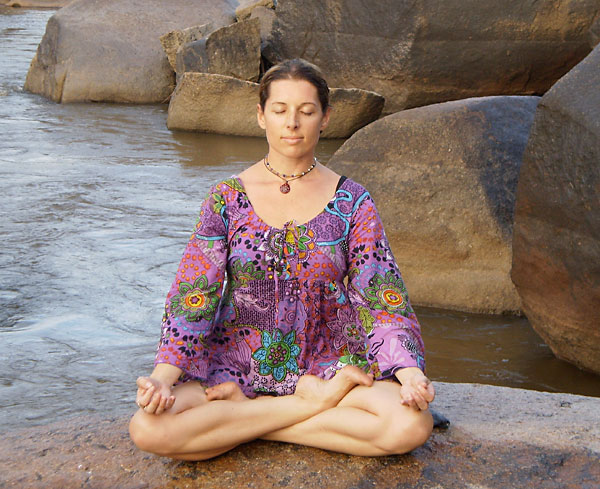 If you've joined Byron Yoga Centre on Retreat or for a Training course in recent years, you will have enjoyed a Kirtan, or group call-and-response chanting evening , led by the nightingale tones of Lila Kirtana. This is Lila's story…
There is absolutely no reason why I should have come to yoga.  I come from a middle-class, conservative Christian background. I took my first yoga class in a remote country ski town in Canada simply because there wasn't much else to do there in the summer.
Upon returning to Australia, I connected with a beautiful yoga teacher who nurtured me patiently, slipping in titbits of philosophy as she guided my breath and sculpted my body. I was hooked.
One day my yoga teacher took me to a workshop and introduced me to a man who simply asked me, "Are you happy?". And, although I had everything society said I needed to have to be happy, deep down I wasn't.  So, I gave up everything I knew and moved into the yoga retreat centre that he managed as soon as I could.
It was ironic, just like in the book "The Alchemist", I had spent ten years travelling and searching, only  to find what I was looking for, my new spiritual home, right down the road from where I had spent my childhood!
It was a rigorous schedule. We were up at 4am to shower, and then in the yoga hall at 4.30am for a morning program that consisted of 4 hours of asana, meditation, chanting and study of the sacred texts before breakfast. There wasn't a day off or a chance of a sleep-in. But I loved it!.  Something in the yoga scriptures spoke to my heart  – and I didn't even understand the language. I just understood maybe every fifth word, but that was enough to keep me going, to pull me out of bed each morning and move my stiff body through the postures, my fingers around the mala, and to try to wrap my tongue around the Sanskrit mantras.
I still remember my first Kirtan. Standing in a group of mostly Indians chanting in Sanskrit – my conservative upbringing should have rebelled, but even though I had no idea what was going on,  I had the feeling of coming home.
Kirtan is call-and response singing, and later in the ashram I was asked to lead a song. Everyone had to; there was no choice. I had never sung on my own in public before and was terrified. I protested that I couldn't sing,  but was given the definitive answer that it didn't matter – Kirtan was from the heart.  Kirtan is Bhakti Yoga (devotional yoga / yoga of the heart) and everyone is qualified to love.  So I closed my eyes and sang, and my previously closed heart beganto swell inside mychest.  At 30 years of age,  I found my life's true passion.
In the 15th century, the Bhaktis wrote ecstatic love poems to the Divine and went around singing all the time.  The message is simple: cultivate joy; see the Divine in each other. This simple philosophy for life still holds relevance today,  and I drank it in and made it my own.
After two years of study I took initiation with a beautiful Swami who named me Lila Kirtana – 'the joy of chanting the Divine Names'.  He told me that Kirtan is the safest place to be in the material world.  In chanting I found a way to switch off my turbulent mind.  It was a revolutionary realisation to me that I could control my thoughts– to take control rather than just be an observer.  Bychanting these ancient mantras we insert a positive vibration, and as light dispels darkness, mantra chanting removes the negative thoughts and energy from the body.  Kirtan and yoga changed my life so dramatically that I just have to sing. To not chant would be to deny my soul its chance to grow.
I left the ashram and moved to Byron Bay two years ago to begin working full time with the Byron Yoga Centre.  Our Director, John Ogilvie,  was keen to introduce Kirtan into his teacher-training courses,  and so we gathered some beautiful musicians together.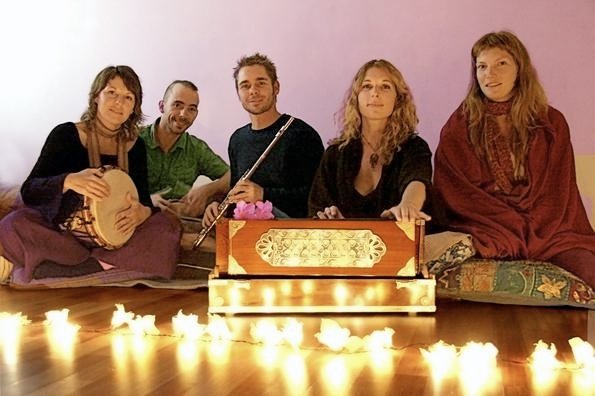 Since then we have chanted on the yoga retreats and with all the trainees that come through our courses. I feel blessed to be given the opportunity to share Kirtan with hundreds of people especially with those who have never chanted before.
Recently my partner Mal and I heard about a festival in America called 'Bhakti Fest' in the Joshua Tree National Park in California.  Four days of 24 hour Kirtan with the top artists in the world; three yoga shalas with continuous classes – it sounded too good to be true! With two weeks to go, some amazing events conspired to set us on the path to Bhakti Fest, so it seemed it was our destiny to be there.   Mal and I rented a campervan and on September 9th we found ourselves in the desert amongst the Joshua Trees trembling with excitement.
The line-up was phenomenal: a 'who's-who' in the world of Kirtan. Dave Stringer was as cool as ever and when he wasn't on stage he wandered amongst the crowd like an old friend catching up with his fans.  Krishna Das's deep voice shook me to my spine – nothing could have prepared me for how much I loved seeing him live.  Gaura Vani's humility and devotion brought me to tears. MC Yogi made us laugh chanting mantras at high speed rap-style. Jai Uttal, Donna Delory, Karnamrita, Shyamdas, Bhagavan Das… the list goes on. I was star-struck, meeting my favourite heroes all in one place.
We chanted to Ganesh and Shiva and Krishna and Laksmi and Durga and Sita and Ram. We barely slept for 4 days. We danced under the sun until our feet ached. We trance-danced with Shiva Rea and practiced Thai-yoga massage with Saul David Raye and flowed freely in kirtan vinyasa with Govindas and Radha.  Every yoga class had live musicians and drummers and mantras that opened my heart and made me cry from the absolute bliss of it all!
Being at Bhakti Fest was a spiritual high. The festival was alcohol and drug-free, and the vibration was one of love. We gorged ourselves on the vegetarian food, listened to Swami's discuss philosophy, dragged our weary bodies to more and more yoga classes, and sang our little hearts out till we lost our voices. Bhakti Fest was an ocean of devotion and a truly divine experience.
Back in Byron now it all feels a little surreal. The dates for next year in Joshua Tree are already set for September 7 – 12, and the good news is that the festival organisers are hoping to bring it to Australia in 2012 with a strong bid from us for Byron Bay!
Mal and I have come back to Byron inspired to try to create our own form of 'Kirtan Vinyasa', where we chant as we flow through the postures. We recently trialled this new class on the Byron Yoga Centre teachers, and we'll be running our first official Kirtan Vinyasa in India for our retreat guests.
The journey continues…
Hari, haribol!