Written by Ana Davis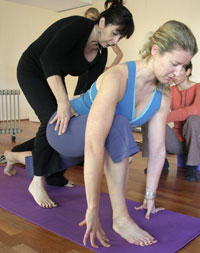 For ten straight days a group of committed yogis lived and breathed 'yoga therapy' from six in the morning to half eight at night. During the meal breaks the intensity did not stop, with passionate discussions about yoga, natural health and healing often accompanying the dhal and chai. We started our 10 day Yoga Therapy Teacher Training intensive by work-shopping the philosophical guidelines for the principals and tools of yoga therapy. Very quickly, we established that yoga forms part of a bigger-picture of holistic healing and may be just one, albeit integral, part of the healing process. We also realised that that this healing can only take place when the yoga therapist has a clear, loving and non-judgmental intention. Already, I think we all knew we were in for a fascinating journey of delving into the body-mind connection in our clients, as well as within ourselves.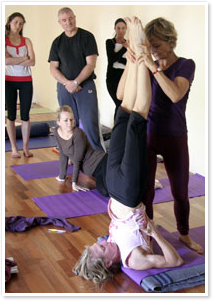 Eve Grzybowski adjusting shoulderstand 
The group comprised committed and diverse health professionals – yoga teachers, two physiotherapists, a massage therapist, naturopath and a GP in-training – which meant that the knowledge bouncing between the walls of the Belongil Beach studio was broad-reaching and endlessly illuminating. Add to that some of Australia' s most experienced and respected teachers, Eve Grzybowski, Judy Krupp, Maria Kirsten, Jacinta McEwen, and Stephan Kahlert, and I'm sure everyone would agree the path to becoming a yoga therapist was not only highly educational but sprinkled with the refreshing wisdom and humour unique to each of these wonderful yogis.
There was a wonderful feeling of exploration and discovery in the room as the group worked on both hypothetical and real case studies. The feedback being that this was a valuable way to integrate and consolidate the bucket-loads of information that was being shared.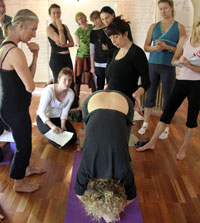 Judy Krupp adjusting standing forward bend
Personally, I felt grateful for the opportunity to straddle the roles of teacher and student during this 10 day intensive. Even with 13 years of yoga teaching experience behind me, I realised, as always, what a 'baby' I am in yoga terms.
We all know that you never stop learning no matter how long you've been teaching. Yet at the same time, I felt gratified that much of the empirical and intuitive knowledge I have collected over the past two decades of teaching and practice was confirmed. To me, it was yet another useful reminder to follow the guru within (sat-guru) as well as the guru without.
So after an intense time of discussing, massaging, adjusting, and, releasing our psoas (thanks Judy!?), what is it that I gained the most from being involved with this course? In a nutshell, this little gem: there is a big difference between curing and healing.
Ana Davis is a Yoga Teacher Trainer for Byron Yoga Centre, specialising in women's health and restorative yoga.